What if I could tell you that there was a place, a place where you could learn real business skills…
A place where you could safely ask questions and get support…
A place for people who just want straight forward answers and direction…
A place where it's not all about "hustle", it's not all about webinars and list building… but instead it was a balanced look at building an online and offline business
I know that you started your business for many reasons.
To support your family and provide the things for them you've always wanted to give
To give you flexibility with your schedule, to run your day as you wish
To do the thing you're really passionate about
To get the freedom you've always craved, so you're not tied to a 9 – 5.
To make a difference, to do something with your life
But it's not always like that.
Some how you've ended up being "busier" than ever… but it's not always productive.
You are getting by, but you're definitely not making millions.
And rather than a 9-5, you seem to have ended up with a 8am-midnight, or more.
You never feel like you can completely step away from the business.
Here's the thing…
Creating your own business can be a lonely journey, and sometimes it's hard to know who to turn to.
You don't want to be mislead by another promise of a 6 figure webinar, or a "work only an hour a day' moto.
You're fed up of seeing all of the "highlight" reels of someone elses life and business, and it all feels just a little too fake now.
You want someone to be real with you.
To tell you what's really going on.
To share with you what's worked for them, and what really doesn't work.
Which is why I built the Get Real Business Academy for YOU.
---
Hi, I'm Sam.
And I get it.
I too, got fed up.
Fed up of feeling like my business wasn't stylish enough or fashionable enough, to be successful. (You know… it's not Instagram pretty!)
Fed up of thinking I must be wrong, because I didn't dream of the "lay on a beach all day and never really do any real work" lifestyle.
Because I wanted a business that meant something. That supported my kids, that allowed me to go to sports day, that meant that I could be flexible and work hard, and make big differences in peoples lives.
Something that allowed me to share my passion for courses with real learning outcomes, and build a successful business.
And that's why I created the Get Real Business Academy. As a safe haven, where you can learn what you need to learn, hang out with some kick ass business owners doing the same things, and start to be the real you again
---
What is the Get Real Business Academy?
The Get Real Business Academy is a 12 month membership to an ultimate resource library designed just for you, jam packed of tools, templates, workbooks, courses and challenges.
But it's so much more than that.
A safe place, to have all of your questions answered, to get the support you need, and to have a team of cheerleaders, pushing you forward, helping you build the business you've always wanted to.
What do I get?
The Get Real Business Academy is ALL about support. A full 12 months of it. This is not a quick fix, or a promise of millions, just long term support to structure your business your way.
You get access to:
A private Facebook support group: A safe place for you to connect with myself and others, to have your questions answered, to stay accountable, and to get feedback and support.
Live monthly Q and A sessions: Group Q and A calls to get all of your questions answered, and get the guidance and support you need to grow your business.
Private live streams: Off the cuff live content, that is only available inside the Academy
Course Creation Section: including the course creation workbook and the Ultimate Membership Site Program.
Business Building Section: including the 10 part Double your business course, and planning bundles
Complete back access to the Library: with over 26 training bundles, and 400 videos covering subjects from productivity to sales.
Online tracking: The Academy gives you the ability to track your learning. Tick off modules you have completed, and save your own private notes below videos so you can make the most of the content.
Join today for just $399 Australian Dollars


---
Here's a sneak peak inside…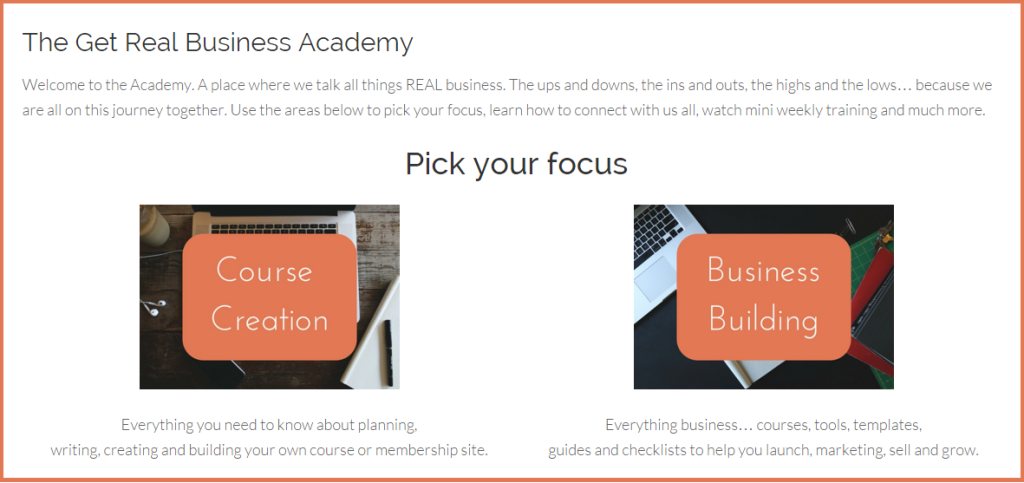 The Academy is split into 2 main sections, course creation and business building.
Course Creation:
Course Creation Workbook: The step by step guide to taking all of the knowledge out of your head and structuring it into a course
Write that course Challenge: 30 days of videos to coach you through writing your own online course
Trainers masterclass: A six week course to really up-level your presentation skills, showing you how to manage the emotional response and engagement of your audience. Weekly videos, workbooks, suggested reading, and tools and templates. (value $999)
Video how to: Videos on how I do videos. I share my set up, my lights and microphone, the whole lot with you.
Tech and Tools guide: The inside story, when I share with you all the plugins and software that I use to make everything work
Business Building:
Double Your Business: A 10 Module Course that takes you step by step through positioning yourself as the expert and doubling your profit. (value $1,999)
Business building tools: All the tools and content you need to help you grow your business. Marketing workbooks and tracking forms, sales lessons, challenges, templates and much much more.
Live Q and A sessions: Group calls, to get all of your questions answered, and get the guidance you need to grow your business.
Private Facebook group:Safe places for you to connect with myself and others, to have your questions answered, to get feedback and support.
The Get Real Business Academy really is the ultimate support network, jam packed with workbooks, templates, resources, and much much more. Everything you've ever needed to take your passion and turn it into a successful business.
That's just over a $1 a day, for complete support


---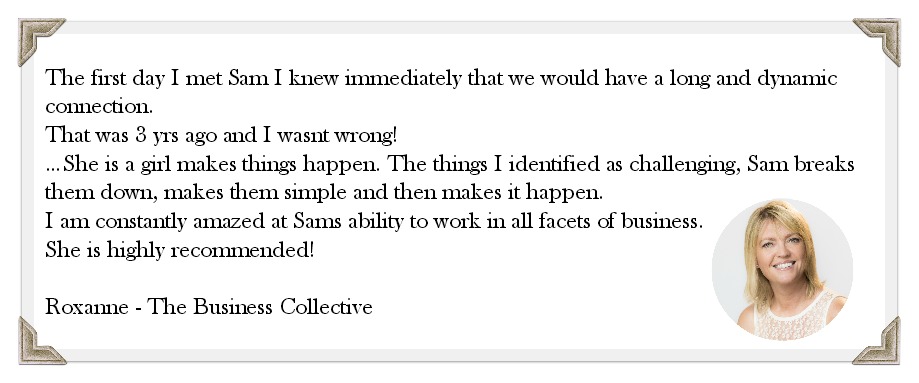 ---
The academy is more than just a single program – I'm giving you access to a huge range of my products and programs, in fact – everything that I create is yours.
Some of the
Resources and E-courses available to you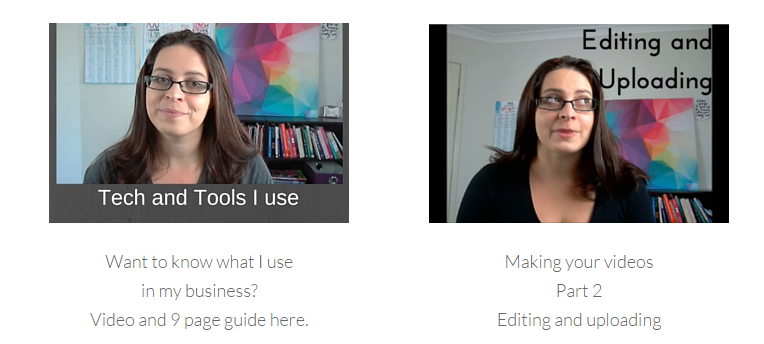 ---
All together you'll receive over $4,500 worth of tools, resources and content… all for just $399


---
Why is the Get Real Business Academy different from anything else out there at the moment?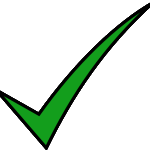 It's been designed just for you and people like you – those who are passionate about what they do and love to share it with others… but are realistic. You don't want to be lied to, you don't want promises that can't be kept, you just want good honest support.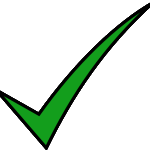 I'm not going to upsell you on extra crap just so you can get results.
Everything that I have ever made is in here for you – everything!! When you finish one program, you won't need to buy the next. It is all available to you right from the beginning. (Note: this is not to overwhelm you, but to provide you with options. You control what you learn in what order, and how quickly you work through everything)
That's right… this isn't my entry level product, this isn't a plan to upsell you into other courses… this is it. This is everything. All for you.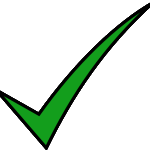 The Academy is continuous. The problem with other great programs is that they finish. You finish 6 – 8 weeks of course work, leave all enthusiastically and then get sucked back into the overwhelm of day to day life, kids, families, work, businesses and all the rest. The Academy is here, 365 days a year to support you through this.
Join Today


---
Who the hell is Sam?
Meet Sam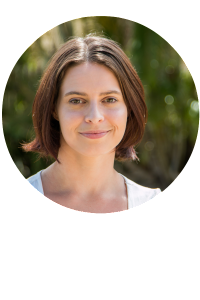 "Sam Nordberg is a business training specialist and a passionate speaker.
Having recently trained members of the Defence Force, Emergency services, Government departments and the Surf Lifesaving foundation, Sam is no stranger to building training that meets very specific needs.
With a decade of experience in sales, whilst managing and training teams of up to 100, Sam now shows business owners how to get the most of their sales and marketing strategy through workshops and nationally recognised qualifications."
Well that's the official bio… the boring bit. But what does it actually mean?
I'm managed teams of 30 since I was 18, I've managed departments doing 18mil in turnover… I've own product based businesses, and service based businesses. Now I'm the CEO of my own training company. I'm not just a coach, who has only ever been a coach, who teaches coaches how to make money… if you know what I mean.
I do it all for my family. My ex-husband is my business partner (you'll find out lots more about that), and we make all of this work together. I have 2 kids, a step son, a new husband and an expanding family. Sometimes it is a bit messy, but for me, it is all about providing my kids with everything I want them to have.
I LOVE talking business. I LOVE thinking about how it all works, and how to help people get better results. I thrive on chatting all things work… it is sad but true.
Oh… and I'm a huge nerd a heart. If I'm not working you'll find me binge-ing Netflix, playing Xbox, or hanging out with friends playing board games.
But it's important for you to decide…
Am I the right choice for you?
Before you get too far in you need to make a choice… I'm the right fit for you if:
 You value education, your own and that of others. You like to learn new things, but more importantly, you like to take action.
You are willing to do the work
You get shit done without excuses (I like to move fast and get through a lot of work quickly)
You know that I can't do it all FOR you, that's your job
You get that I'm pretty casual – I've been well known to run training session in jeans and a singlet – don't expect high class fashion from me.
You're not a victim. Life happens, to all of us, take responsibility and take control of your own outcomes. You don't have to be a victim to anyone!
You understand that the Get Real Business Academy gives you access to everything… that includes my older stuff too. In some of the videos the lighting is different, the sound is different, but trust me, the content is still good.
You understand that you are committing without a refund. Once you pay for your years access the content is yours from day one, and for this reason no refunds will be given unless required by Australian Fair Trading Law.
And if all of that is ok with you then this really is the place for you.
---
---
The Get Real Business Academy will be your ultimate resource, your safe place, and just want you need to stop being busy and start structuring the business that you want.
Some FAQ's
When will I get access to the training?
You'll have access to the academy within 24hours of your payment being made – although usually it is a lot quicker than that.
How long is membership?
The Get Real Business Academy is available a 12 month subscription. Whichever way you choose you`ll have access to the academy within 24 hours of signing up.
Your next payment will automatically come out 12 months later, but don't worry, you'll get an email reminding you of this.
Why is it so cheap?
You're curious right? Wondering what the scam is and why we give everything away so cheaply. The honest answer is, I want you to have it. I've spent years creating all of this stuff but it helps no-one just sitting on my hard drive. I want others to be able to share their passion and knowledge with the world and to do that they need to be able to afford the information that is going to help them grow their business – hence the creation of the Get Real Business Academy
Will it always be this cheap?
No, it won't. As the content increases, and the amount of information I put into the Academy grows, so will the price. This won't happen straight away, but you can expect the price to increase over the next couple of years. Your subscription price will always remain the same though, which means if you paid $399 a year for access, then you'll pay that next year too, no matter how much the price has increased by then.