Sometimes you just want someone else to help you out, and do it for you.
I get it. Rather than smashing your head against your laptop for hours, it's much easier (and a hell of a lot quicker) to get someone to do it for you.
Let me be that someone. Here are some of the options you can use for getting me to do some or all of the work for you.
---
Brain dump session:
You have a whole heap of stuff inside that heap of yours… so much stuff.
But the moment that you try and put it on paper, or in any sort of structure, you feel stuck.
You might have piles of notes, and post-its stuck everywhere, but that is as far as you ever seem to get.
Let me help you get everything out of your head, and work out what you need to include (and what can maybe be left out). Let me tell you what to put in each module and how long your course should be. I'll even create a complete course outline for you and a personalised action plan just for you, that tells you exactly what to do next.
If that sounds great, then this brain dump session is for you.
---
Course Review Bundle:
You have a whole heap of stuff!! You've even started to put your course together, you've got content created, but now you're stuck. The thing is, you've probably got too many ideas, and maybe even too much content… and now you are overwhelmed.
OR… it's possible you've already created the course, maybe even run it once or twice, but you're ready to really make sure it's a great as it can be.
Which is exactly where the Course Review Bundle comes in. Got a full course already, or part of a course?
Got stuck somewhere? What someone to tell you what's right and what can be improved?
Then the Course Review Bundle is for you.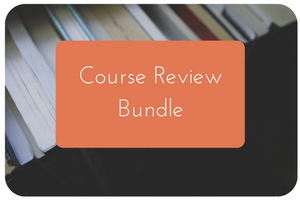 ---
Want more done for you:
What if you want more?
Want someone to do all of the technical work for you?
Maybe build your course into the back-end of your existing WordPress website, install new plugins, create a membership area, or even build your course on another platform like Kajabi.
I can do that for you
Want even more?
While I can't write all of your content for you, I can take as much off your hands as possible. I can guide you on video creation, edit your content, and put it all together for you.
Each done for you program is personalised to your needs. Tell me a little about your project and I can book you in for a call and give you a personalised quote.